YOUR COVER LETTER
ADVERTISES YOUR RESUME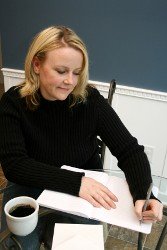 While your cover letter is an advertisement for your resume, write it so that if a potential employer misplaces your resume, your letter, all by itself, can generate a phone call for an interview!
In just five or six paragraphs (at most) your letter needs to say:
That you are the absolute right person for this job
That you have unique skills and experience that will have an immediate, positive impact on the organization
That you are enthusiastic and excited about putting your skills to work for this employer
Your letter has to be written to communicate information. Make it conversational, using words and grammar that you naturally use when speaking aloud. (Using million dollar words and pretentious grammar will distract from your information and put people off!)
The following guidelines will help keep you on track. Build a checklist for yourself to be sure you cover everything.
Focus on the needs of the employer. Show that you have the answers they are looking for. Showcase your knowledge of the company. Use what you've learned in an informational interview or on the Internet and drop one or two facts about the organization (its products, needs, competitive challenges, etc.) to show you've done your homework. If you want your letter and resume to be on top of all the other applications, offer a carefully-researched suggestion that would immediately address a need you've identified.
Briefly state your best qualifications and achievements. Remember, your letter will only be five or six paragraphs in total so three or four bullet points will need to suffice. If you are mentioning that you saved money and increased efficiency, be specific about how much you saved and over what timeframe.
Show your enthusiasm for the job! Most of the rest of the applicants will will be asking for a job where they can advance and make more money. Set yourself further apart by saying you are excited about the prospect of putting your skills to work for the organization.
Let them know you will follow up to schedule an interview. Politely say that you will be calling within the week to answer any questions they might have and that you are looking forward to meeting them in person. This shows your determination and confidence.
Finally, put your energy and personality into your letter. It's more probable, believe it or not, that an employer will hire you because they like you regardless of whether or not you are the most qualified applicant. So give them reason to like you and they'll hire you because they want to work with you.
You might find it helpful to review sample cover letters and use a cover letter template. Then customize it so it is uniquely YOU!
Return to MAKING A JOB CHANGE from COVER LETTER