YOUR PERSONALITY TYPE
IS YOUR BUSINESS PERSONA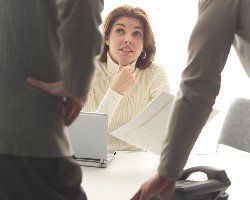 Your personality type and its accompanying personal style give you a unique workplace aura in much the same way that corporate culture creates a unique aura for your company. Like corporate culture, your personality type defines who you are, how you think, how you get things done and significantly impacts how well you "fit it".
Please know up front that, according to the Wall Street Journal, it's not all that unusual for a manager's personality to clash with a corporate culture. So if you find a few of your personality traits are out of synch with your culture, don't fret. The trick is to be aware of which traits they are so you can subtly realign your actions or reactions as needed in a given situation.
Can I Get Just a Quick Overview
Of My Personality Type?
Since time is always at a premium, I'll give you three informal tools to help you do just that. While you will take away a lot of interesting thought starters, these tools make no claim of scientific accuracy. But . . they are relatively short, you can complete them right away, score and interpret them yourself.
Evaluate your AQ ("Alignment Quotient") – will tell you how well your personality traits currently align with your corporate culture
Identify Your Workplace Persona – will show you personality traits - such as dominating, impulsive, amusing, cautious, practical, indecisive - others see when they interact with you
Put yourself in one of four personality types (Analytical, Artistic, Amiable or Authoritarian) so you can compare nine of your style traits - such as verbal style, decision-making style, communication style, conflict resolution style, self-esteem IQ/EQ balance - to the three other personality types and your corporate culture "type".
Is There a Way
I Can Get A Quick "Read"
On What Makes Someone Tick?
No overview of personality types would be complete without acknowledging the following three methods of grouping people, labeling and working with them. They tend to be used pretty casually, but each makes some valid distinctions so it's worth understanding them.
These identifiers can be useful when you need a quick read on a person you are meeting for the first time and want to ensure you can establish a personal alighment.
The left-brained or right-brained comparison
The generational comparisons, including the silent generation, the baby boomers, gen x, and gen y, especially since generational differences will have a significant influence on tomorrow's workplace
Type A, Type B or Type C personality comparisons and are they compatible or not
(If you're interested in the influence of your sun sign, I leave that to you and your favorite astrologer.)
In Depth Personality and Style Assessments
Finally, I'll introduce you to several of the most frequently used formal, in-depth Assessment tools, and take a brief look at the relative merits and applications of each. Some of them have been around much longer than others; some are scientifically based and some are empirically based. They don't all test the same thing, none of them makes a claim of infallibility, and all of them caution that no results are absolute. So choose wisely, but do choose!

"Knowing others is wisdom. Knowing yourself is enlightenment - Lao Tzu
What More Do In-Depth Assessments Tell Me?
These Assessments measure your "soft skills" – your strengths, styles and preferences – and, equally as important, identify patterns of strengths and styles. Companies use them in making hiring, development and advancement decisions. While there's no pass or fail grade in these Assessments, there's no way to "beat" them either – the same question appears in different guises.
If you've never taken an Assessment, I would recommend you check with your Human Resources department to see if your company will provide one for you.
Assessments are very comprehensive and use sophisticated scoring methods arrived at by certified interpreters. If your company doesn't provide you with an Assessment, most of them are available on-line. If you go that route, have a credit card handy. They're not inexpensive.
Please Note: There are more than 2,500 Assessments in use today so a word of caution: don't expect much insight from so-called mini-assessments. They have little value since they work with such a small amount of information.
From Personal Experience
My impression of these Assessments - at least the MBTI which is the one with which I am most familiar - is that they can be amazingly accurate. I learned some things about myself that I never would have imagined and wish I'd been aware of their availability sooner. After all, these Assessments have been evolving for well over a century.
My Myers-Briggs Type Indicator is INFP – which I found out means, among other things, that I should have joined the ranks of teachers or ministers, rather than business managers. Maybe that explains why I chose to be your management training coach.
A Final Thought
Remember the old story about five people, all blindfolded, touching different parts of an elephant and being asked to describe an elephant? Naturally, everyone described it differently.
The relevance of the story to this discussion is to remind you of one more variable in the personality type mix: that everyone you work with wears their own blindfolds and has their own biases toward certain behaviors based on their personality types. Keep this story in mind and it may help you understand even further why some people respond to you the way they do - and vice versa – and help you to refine your alignment with your corporate culture and co-workers.
Return to HOMEPAGE from PERSONALITY TYPE Proceed to ALIGNMENT QUOTIENT Proceed to PERSONALITY TEST Proceed to FOUR PERSONALITY TYPES Proceed to RIGHT-BRAINED Proceed to GENERATION X Proceed to ABC PERSONALITY TYPES Proceed to MYERS BRIGGS TYPE INDICATOR Proceed to BIG FIVE PERSONALITY TRAITS Proceed to HOLLAND CODES Proceed to DISC ASSESSMENT Proceed to ENNEAGRAM