FOR MANAGERS
MENTORING
IS A GIFT THAT KEEPS ON GIVING!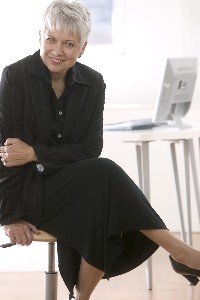 Mentoring is a personal relationship with someone who has the generosity of spirit to share their hard-earned experience in your organization with less experienced business people. A person acting in this capacity is a sounding board for your thoughts, fears, uncertainties, ideas and plans.
The greatest benefit to you will be the confidence to forge ahead with plans to achieve your ultimate business and career goals.
Your mentor will be your teacher, advisor, advocate, guru, guide, counsellor and confidant(e) - not your coach (see difference below). So I've used these descriptors interchangeably throughout this page to drive home the variety and value of this unique relationship.
Is There a Difference Between
Mentoring and Coaching?
Researcher Dr. Matt Starcevich found that mentors, in either a formal, company-sponsored program or in an informal relationship, focus on the person and their career, supporting a a person's growth and building their self-confidence. This relationship is definitely biased in your favor.
Coaching, on the other hand, is job-focused and performance-oriented. It is impartial and intended to drive changes and improvements in behavior.



| | | |
| --- | --- | --- |
| | Mentoring | Coaching |
| Focus | Individual | Performance |
| Role | Facilitator with no agenda | Specific agenda |
| Relationship | Self-selecting | Comes with the job |
| Source of Influence | Perceived value | Position |
| Personal Returns | Affirmation, learning | Teamwork, performance |
| Arena | Life | Task-related |
In this same survey, the top four words chosen to describe a mentor's dominant personal style were: friend/confidante, direct, logical, questioning.
Who Does What in This Relationship?
Your advocate's role will be to:
Listen
Question to understand and draw out facts
Share information about the organization and informal networks
Give advice on career development
Offer alternative perspectives
Provide support and encouragement
Draw on his or her own experience
Confront and discuss current issues

Your role will be to:
Listen
Clarify your understanding
Share your thinking
Review and reflect on yourself
Be willing to change your assumptions
Consider different perspectives
Develop and manage your own career plan
Take responsibility for your own development
Make decisions to maximize the outcome of this relationship

Expectations of the Relationship
Everyone in the business world, can benefit from having a mentor – someone to "watch over you", someone with whom you can share your ideas, receive feedback and new ideas in a safe, power-free atmosphere. This relationship is a true partnership in which both parties show respect for each other and are mutually supportive.
You as the learner, approach potential teachers, propose get-togethers, set your own goals, suggest learning activities, monitor the relationships to be sure your teacher is satisfied and suggest terminating or transitioning from the relationship when mutually agreed upon goals have been met or the relationship just isn't working.
Reasonable Expectations
The following table, developed by The Mentoring Group, will further clarify for you the role of your teacher and your role. Teachers and their progeny typically enter a relationship with assumed expectations of each other. These expectations need to be discussed and agreed to up front so there will be no disappointment - on either side.
| | |
| --- | --- |
| Mentor | Mentee |
| | |
| Accepts the relationship on a temporary basis, for about 12 months or until one or both of you decide to end it | Accepts the relationship on a temporary basis, for about 12 months or until one or both of you decide to end it |
| Meets as often as their schedule permits (two hours per month is recommended) | Meets as often as their schedule permits (two hours per month is recommended) |
| Provides help, serve as a learning broker and sounding board for issues relating to the mentee's career goals and development | Takes the initiative to drive the relationship and is responsible for their own career development and planning |
| Provides and is open to honest and tactful feedback | Provides honest and tactful feedback about the mentoring relationship and is open to receiving feedback |
| Provides suggestions and advice on goals, activities and progress | Asks for suggestions and advice early in the relationship. When advice is given, listens to the mentor, applies at least some of their ideas and lets him or her know the results. |
| Keeps any commitments made | Keeps any commitments made |
| Keeps confidences with the mentee | Keeps confidences with the mentor |
| Works out any minor concerns about the relationship | Works out any minor concerns about the relationship |
| Evaluates the relationship at various points (at least mid-point and ending) within the agree-upon time period | Evaluates the relationship at various points (at least mid-point and ending) within the agree-upon time period |
Unreasonable Expectations
Your teacher cannot be expected to:
Provide you with personal introductions to other people unless they are comfortable doing so
Spend more time on the relationship than s/he is willing or able to give
Take the lead in the relationship, setting up meetings and driving your career development
Continue the relationship beyond the agreed upon time period
Find the Right Mentor for You
The Human Resources departments in many larger organizations maintain a list of senior managers and executives who have volunteered to be advisors. If that list is available in your organization, check out who's on it and find out as much as you can about a couple of the volunteers. It's a great place to start.
Ideally, your advisor will:
Know the organization from top to bottom and inside out
Have come up through the ranks and earned their success in the trenches
Have a reputation as a great communicator
Know everybody
Be open, honest and empathetic
Have mentored others before you
Occupy a spot fairly high on the org chart
Be someone you want to be just like "when you grow up"
Be too busy to take you on (the busiest people will always find time)
You'd think in today's multigenerational workforce, finding an advisor would be a relatively easy proposition. But there may be some Boomers in your organization who are not too keen on being advisors. They believe they went out into the world, paid their dues, and either sank or swam without anyone holding their hand.
One option is to choose an advisor from among those who have three to five years more tenure in management than you do. They'll remember what you are going through and will be able to give you good advice, probably more tactical than strategic, but valuable nonetheless. They are also very team-oriented and grew up with great social networking skills.
The other option is to identify the Boomers in senior management positions who want to pass the torch to someone they have influenced. Their advice will probably be more strategic than tactical and having friends in high places never hurt anybody!
The bottom line is to choose someone you will be comfortable with, someone who will challenge you to be your best and someone you trust – man or woman. If your career goals within the organization are super ambitious, choose a super star!
How to Maximize the Outcome
of Your Counselling Relationship
A business counselling relationship helps you take a step back and look at your business from a distance then stay focused on your original plans and goals. Often, this is all that is needed for you to identify strategies and opportunities for growth.
In addition, you can help build this relationship by:
Remembering that you own your own development. Your counsellor doesn't. It's up to you to identify your objectives and keep the relationship focused and moving forward.
Using active listening skills in discussions with your counsellor.
Being prepared to ask for specific advice on your skill set, ideas, plans and goals. The more specific you are, the easier it will be for your counsellor to respond.
Be complete and succinct in your comments and explanations.
Make it easy for your counsellor to give you honest, specific feedback. Ask for it early and often.
If you get corrective feedback, don't be defensive. Thank your counsellor for his/her honesty then request more specificity.
Mistakes You Might Make
You'll want to take risks and try new behaviors as part of your confidential relationship. It's the only way you can grow and this is a safe environment to stretch. Yet you want to make as few mistakes as possible. To prevent, or at least recover from them, here are a few tips from Dr. Linda Phillips-Jones:
Don't be too passive.
Some managers expect their confidante to literally take care of them - tell them what to do to meet their goals, protect them from making mistakes, introduce them to key contacts – in other words, make sure they succeed. But in today's business confidential relationships, it is you who owns your own development and manages this relationship.
Don't be too aggressive.
Some managers, in an effort to be assertive and responsible, come across too strongly. The key is to manage the "dance" of this confidential relationship – lead at times, follow at others and be willing to change steps when needed. When in doubt, discuss with your confidante about how much initiative you should take. Just asking shows you want the experience to work well for both of you.
Don't be "star struck".
If your confidante has considerable experience and expertise, holds an important position or has a fabulous reputation and "star power, it can be a little intimidating. Forget that! You'll learn from the best and a little intimidation is well worth it.
Don't leave future contacts vague.
Schedule at least two or three meetings in advance, including time and place. Clarify what to do about emails and phone conversations between meetings, including what will be considered realistic response times. You're not being aggressive, rather letting your confidante know you're serious about working with her.
Never say "Yes, but . . ."
Your confidante will be offering suggestions, giving advice and identifying new options and alternatives, all intended to help you. Nothing will turn her off faster than hearing you say "Yes, but . . ." It's a red flag to your confidante that you are either stubborn or unwilling to learn or try.
Always report back on what you've done and learned.
Try out things you learn from your confidante as soon as possible and report back about what happened, what worked, what you still need to learn, etc. If you don't report back, she may think you didn't hear what s/he said or that you didn't think it was important enough to try out.
Always follow through.
Do everything you commit to doing! Your confidante will value the relationship because you are proving your dedication and desire to succeed. If you can't complete a task or keep a commitment, let your confidante know as quickly as possible and commit to a later date.
Ending a Mentoring Relationship
There are several reasons this kind of relationship will end:
It has achieved its objective
You feel confident and able to move on
You have tried, but the relationship just isn't working
A formal mentoring program is ending
You need to initiate this discussion. It should focus on evaluating your relationship.
Revisit your original goals and compare them with the outcome of your relationship
Review the progress that has been made
Celebrate your mutual achievements and successes
Take away some ideas for how you can keep learning and growing
Remember to thank him or her. A hand-written note is a classy touch.
Take experience a step further by joining business and professional organizations in your area. Attend monthly luncheons and "Business After Hours" events. Meet new people, exchange ideas and find a new management guru. (This is also the best alternative for managers in companies that only employ a few people and forming learning relationships simply may not be feasible.)
Pay it Forward!
Become a Mentor Yourself
Your mentor provides advice, shares knowledge and experiences, and teaches you using a low-pressure, self-discovery approach. Your mentor "champions" you, opens doors and exposes you to new opportunities.
Being a mentor is equally as rewarding as being mentored. So, down the line when you are in a senior management position, remember how you felt when you were starting out and mentor another manager!
Return to HOMEPAGE from MENTORING