HOW DO WOMEN IN MANAGEMENT
AVOID GROUPTHINK?
SUSPEND TEAM COHESIVENESS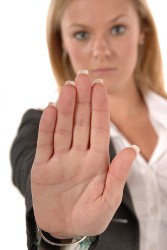 Groupthink fails absolutely when it comes to following the decision-making model recommended here – or any other model for that matter. You can imagine the negative impact on a decision when the following occurs:
The group intentionally limits its discussion to only a few alternatives.
The solution initially favored by most members is never critically evaluated for pitfalls.
The group fails to reexamine alternatives originally disfavored by the majority.
Expert opinion isn't sought.
The group is highly selective in gathering and considering available information.
The group is so confident in its ideas that it doesn't consider "what could go wrong".
Beware the following conditions:
The group is highly cohesive.
The group is isolated from contrary opinions.
Your manager's style is directive, (link to management-styles) so your wishes are well known.
How can you prevent it from happening on your team?
Appoint a devil's advocate during a decision-making process.
Encourage everyone to be a critical evaluator.
Divide the team into subgroups
Invite team outsiders in to bring fresh ideas.
Collect anonymous reactions via a suggestion box.
As the team manager, do not state your preference, at least not initially.
As you prepare your team for a group decision-making process, be sure they are aware that they have to set aside their normal cohesiveness for the sake of reaching the best outcome.
Encourage them to be competitive during the process. When they leave the room, they pull as a team again.


Return to DECISION MAKING from GROUPTHINK