RISK-TAKING MEANS
WOMEN IN MANAGEMENT MUST
LET GO OF WHAT THEY KNOW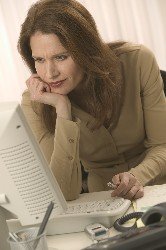 Risk-taking is central to everything worthwhile. In the immortal words of Wayne Gretzky, "You miss 100% of the shots you never take"!

The trick is to be smart about it!
The fundamentals
There's no single risk that will solve all your problems.
You're supposed to be afraid of taking a risk.
The moment of committing to acting on the risk will be the most fearful part.
Most of the time, you will lose something merely by deciding to risk – usually your comfort zone.
Some form of separation anxiety is present in every act of risk taking.
You'll never have enough information. At some point, you have to act.
Risk-taking guidelines
Have a goal. Risk without a purpose is in trouble from the start.
Ask questions. It's better to appear stupid than to make big mistakes because you're afraid of looking stupid.
Know the loss involved. If you don't expect the loss, you don't understand the risk.
Take your own risks. No one else can take your interest to heart the way you can.
The phases
Preparing – recognizing the need to risk and deciding to take it. Ask yourself: is this risk necessary? Is the potential loss greater than the possible gain? Who should know about this risk and why?
Committing – initiating the risk and reaching a point of no return. Am I trying to prove something about myself? Who are the key people involved in this risk? Do I trust their judgment? How will I know when to change plans or stop?
Completing – experiencing either exhilaration or sadness. Where do I go now? Could I have taken this risk more simply? What can I learn from analyzing my success or failure?

Risk-Taking Do's and Don'ts

| | |
| --- | --- |
| Know the potential loss involved | Pretend you're sure when you're scared |
| Act decisively | Be unrealistic or misplace your emotions |
| Ask questions | Count on being 100% successful every time |
| Correct your mistakes | Delay or argue with reality |
| Be brave | Combine risks |
| Know your limits | Give up too soon or hold on too long |
| Make a timetable | Take "time out" |
| Understand that the odds can change | Lose faith |
| Know when to leave well enough alone | Stick with an unworkable plan |





Simply put, no one gains prestige or develops power and influence without taking risks.



Return to DECISION MAKING from RISK-TAKING